Well, now. This is amazing — a piece in the paper related to my home congregation, Hopewell Mennonite Church.
The cookbook, if I must get specific so quickly.
And in reading this short news piece, I learned a little something.
Local church celebrates 100 years

The Hopewell Mennonite Church in Hubbard is commemorating its centennial with a cookbook that features its members' favorite recipes, according to a news release.

Proceeds from "Willamette Valley Family Favorites," which is available for $12, will support church missions. Copies can be purchased at the Whiskey Hill Road church or by contacting either Jane Boss 503-824-3166 or Jana Kropf 541-466-5911. Samples are available for viewing at Shoppe of Shalom as well as at the Molalla and Canby public libraries, according to the release.

The spiral-bound cookbook includes more than 200 pages of recipes for entrees, side dishes, desserts and beverages. It also has appendices about household hints and kids' kitchen activities.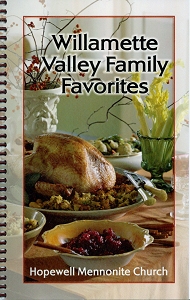 If you own the book, please be aware that it slipped through the editorial and review processes with several significant errors. So if you fix one of the recipes and it tastes awful (or otherwise proves to be a culinary…ah… tragedy), it could well be the recipe does indeed need fixing.
I hope to start posting those fixes before too much longer.
For one or two reasons, I have opted not to peddle the cookbook myself. However, you may order it from a friend here: HeavenScent Farms.