I've listened to some of your informed, eloquent, impassioned monologues defending and promoting the US Constitution. Though I think they are helpfully enlightening, I'm convinced you're wasting your time.
For your laudable mission to succeed, the Constitution must be carefully observed and honored. And protected, defended, and enforced, for it can do none of those for itself.
Alas, far too many judicial and political leaders entrusted with such a task have been (and are) derelict in that. Furthermore, far too much of the populace just doesn't care. And both of those numbers are on the rise, not the wane.
The judicial, political, Constitutional war to preserve this republic as founded is lost. Nothing can be done to rescue the United States of America. Nothing. Do the political and cultural math — the numbers just aren't there.
In the course of more than four decades, this nation has grown comfortable with a gradual hollowing-out of the Constitution. Now, we can hardly say that process is gradual anymore. This brazen corruption of principles and laws has savaged the country in myriad ways political, legal, financial, moral, cultural, and spiritual.
Mr. Levin
, the building has shifted on its foundations. Choose any of its original foundations and you will see clearly that the structure no longer sits squarely and safely and enduringly on it. The shift has been of such magnitude that the structure faces imminent, irreversible collapse.
Is America lost? Yes.
No political hope remains. No Constitutional rescue is possible anymore.
The only hope that remains is spiritual in nature. Period.
Unless this country turns to God in genuine, unconditional repentance and surrender, she's beyond recovery.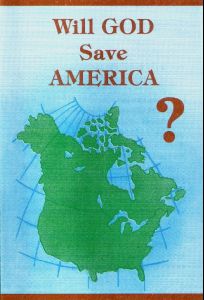 Will God Save America?
But countries don't turn to God, do they?
People do.
Will they? Will you? Will I?
I have. I do. I will.
Only the God of Abraham, Isaac, and Jacob can save us. (You're a Jew, Mr. Levin; you know that, right?)
Only His Son can redeem us.
He waits for us.
Still.