The US Department of State updated its Mexico Travel Warning on Tuesday, August 22, 2017.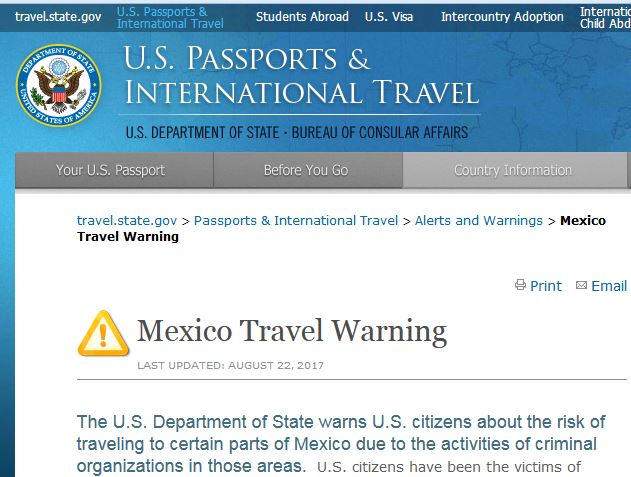 The U.S. Department of State warns U.S. citizens about the risk of traveling to certain parts of Mexico due to the activities of criminal organizations in those areas. U.S. citizens have been the victims of violent crimes, including homicide, kidnapping, carjacking, and robbery in various Mexican states. This Travel Warning replaces the Travel Warning for Mexico issued December 8, 2016.

For information on security conditions in specific regions of Mexico, see our state-by-state assessments below. U.S. government personnel and their families are prohibited from personal travel to all areas to which the Department recommends "defer non-essential travel" in this Travel Warning. As a result of security precautions that U.S. government personnel must take while traveling to parts of Mexico, our response time to emergencies involving U.S. citizens may be hampered or delayed.
My particular interest lies primarily in the state of Sonora, but also in the state that borders it to the south, Sinaloa. So here are those portions of the warning:
Sinaloa (includes Mazatlan): One of Mexico's most powerful criminal organizations is based in the state of Sinaloa, and violent crime rates remain high in many parts of the state. Defer non-essential travel to the state of Sinaloa, except the cities of Mazatlan, Los Mochis, and the Port of Topolobampo. Travel in Mazatlan should be limited to Zona Dorada, the historic town center, as well as direct routes to and from these locations and the airport. Travel in Los Mochis and Topolobampo is restricted to the city and the port, as well as direct routes to/from these locations and the airport.

Sonora (includes Nogales, Puerto Peñasco, Hermosillo, and San Carlos): Sonora is a key region in the international drug and human trafficking trades. U.S. citizens traveling throughout Sonora are encouraged to limit travel to main roads during daylight hours and exercise caution on the Highway 15 corridor from Nogales to Empalme. Puerto Peñasco should be visited using the Lukeville, Arizona/Sonoyta, Sonora border crossing, and limit driving to daylight hours.

Due to illegal activity, U.S. citizens should defer non-essential travel to:

The triangular region west of Nogales, east of Sonoyta, and north of Caborca (including the towns of Saric, Tubutama, and Altar).
The eastern edge of the state of Sonora, which borders the state of Chihuahua (all points along that border east of Federal Highway 17, the road between Moctezuma and Sahuaripa, and state Highway 20 between Sahuaripa and the intersection with Federal Highway 16).
South of Hermosillo, with the exception of the cities of Alamos, Guaymas, and Empalme. Defer non-essential travel east of Highway 15, within the city of Ciudad Obregon, and south of the city of Navojoa.
Defer non-essential travel within Cd. Obregón?! 😯 Wow! I grew up in that city.
More recently, Ruby and I were in Guaymas and Empalme quite a bit as well as through Hermosillo. (Anecdotal note: We had no security issues or problems — that we noticed.)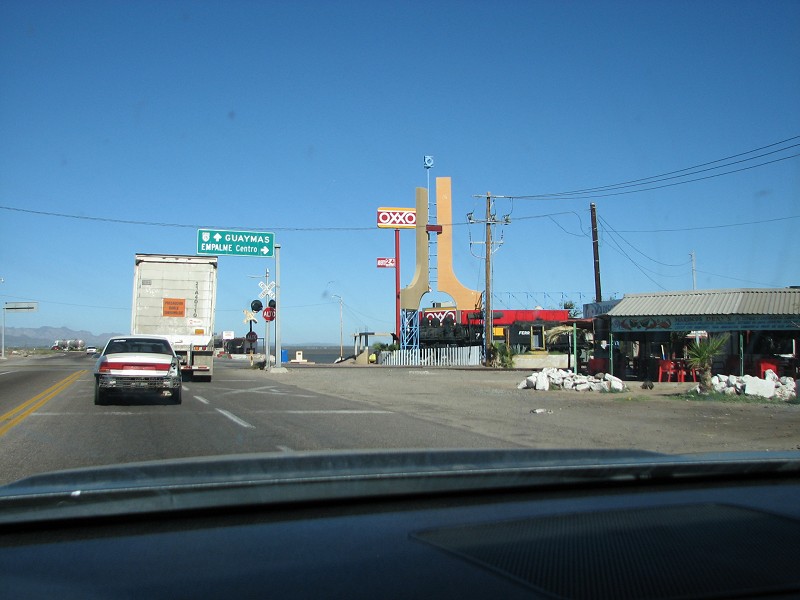 I took this photo the morning of March 7, 2017.
Well, if other regions of Mexico are of greater or additional interest to you, read the Mexico Travel Warning for yourself.
Let's remember to pray for God's people in Mexico, be they nationals or foreign missionaries.