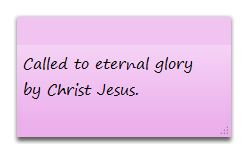 A few nights ago I read a series of Scripture selections that really blessed me.
I was going to post them at Panting Hart, hoping to bless and encourage others. (Like you, for instance!) But I discovered last night that I've already posted them twice there (in 2011 and 2013).
So, I decided to write this short little post here and link to Not Afraid of Evil Tidings and After You Have Suffered Awhile at Panting Hart.
Oh, and here are three pieces to whet your appetite. Read it all