Yesterday we had a family outing to Trillium Lake. (It was a birthday thing.)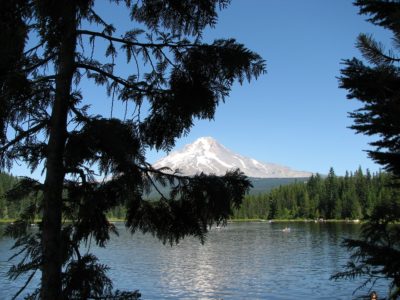 This morning early I thought back on the other vistas of God's creation which awaited us there. And I wondered…
How many of those nude legs belong to women worship team members?
How many of those barely covered breasts have the heart of a female Sunday School teacher beating behind them?
How many Christian male eyeballs tracked back for one more discreet look?
How many Christian men wrestled with wistful wishes, treacheous thoughts, and deadly desires?
How much ache in the Creator's heart?
Will His heart have any revulsion in church services today?
You could read that as me looking down my nose on fellow Christians or fellow fallen humans. You could accuse me of being a Puritanical prude. You could charge me with contemptuous condemnation. You could slam me for sanctimonious something-or-other. And you'd be wrong.
I'm not blind to the beauty of forbidden fruit, OK? But in my other-world moments I look beyond eyeball-grabbing displays and feel compassion. Read it all