Two different ways to read this verse:
"How precious also are thy thoughts unto me, O God! how great is the sum of them!" (17).
God's thoughts are precious to me. In other words, I highly value God's thoughts.
God's thoughts are precious toward me. In other words, I am highly valued in God's thoughts.
I'm guessing the intent of the verse is the first one.
But the second option certainly blesses and encourages and warms my heart.
It strikes me, though, that more #1 is true, the more #2 will be true.
I want to rest and trust in God's love toward me.
And I want to grow in my love for God's thoughts. And in my living by them.
Oh, hey! I haven't done this for a while: How is this verse rendered in the Spanish Reina-Valera 1960?
"How precious are to me, O God, your thoughts! How great is the sum of them!"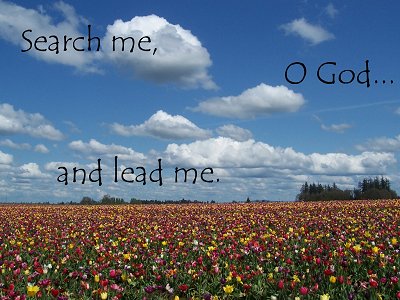 from Psalm 139:23,24
A little bit more from Psalm 139: Fearfully, Wonderfully Marvellous