Reading:
Proverbs 6:12-22

Phase One of God's counsel and command:
"My son, keep thy father's commandment, and forsake not the law of thy mother" (20).
For Phase Two we have verse 22 telling the child to develop a strong, secure bond with that commandment and that law.
Then in verse 21 I see Phase Three — three of the benefits:
"When thou goest, it shall lead thee."
A person in motion should always have his guidance system fuctioning well and dependably. The parents' commandments and laws provide that.
"When thou sleepest, it shall keep thee."
A sleeping person needs extra protection for he cannot provide it for himself. The parents' laws and commandments provide that.
"And when thou awakest, it shall talk with thee."
We all need communion and companionship. We all need something good on which to think. We all need trustworthy input and counsel. We all need parents' godly laws and commandments.
Dad (eg, me), are you listening to these verses?!
Children, are you?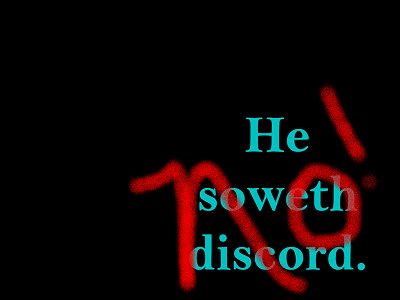 from Proverbs 6:14
A little bit more from Proverbs 6: Parental Direction and Rules