Private
Reading:
Daniel 3:19-29
Do you know what it feels like to face saucy uncooperativeness or defiant disobedience? No, I do not believe Shadrach, Meshach, and Abednego had such a spirit about them in this whole matter. But my question to you stands. Think about it… OK, now let's move on here.
Here is what God had said, clearly and plainly, hundreds of years earlier (Exodus 20:3-5) and which these men took literally as to them personally in their time:
Thou shalt have no other gods before me.
Thou shalt not make unto thee any graven image, or any likeness of any thing that is in heaven above, or that is in the earth beneath, or that is in the water under the earth:
Thou shalt not bow down thyself to them, nor serve them: for I the LORD thy God am a jealous God…
What the king ordered them personally to do was just as plain and clear. So was their reply (Daniel 3:16-18):
Shadrach, Meshach, and Abednego, answered and said to the king, O Nebuchadnezzar, we are not careful to answer thee in this matter.
If it be so, our God whom we serve is able to deliver us from the burning fiery furnace, and he will deliver us out of thine hand, O king.
But if not, be it known unto thee, O king, that we will not serve thy gods, nor worship the golden image which thou hast set up.
What they said was their own echo of an earlier hero of faith: "Though he slay me, yet will I trust in him" (Job 13:15).
What they said echoed hundreds of years later: "We ought to obey God rather than men" (Acts 5:29).
Will that have to echo forth from my heart and mouth as well? The ever darkening times we live in seem to make a positive answer increasingly likely.
Well, who shall fault the king for not reacting with only mild displeasure at such a challenge to his authority and such disobedience to his decree? And by those he had entrusted with great power in the kingdom! No, no matter how undefiant and humble they may have appeared, he could not tolerate their actions and words — such weakness on his part surely would cost him his kingdom as well as his life. (If you at all wield authority, you have to know about thoughts and feelings in the face of defiance.)
Then was Nebuchadnezzar full of fury, and the form of his visage was changed against Shadrach, Meshach, and Abednego: therefore he spake, and commanded that they should heat the furnace one seven times more than it was wont to be heated.
And he commanded the most mighty men that were in his army to bind Shadrach, Meshach, and Abednego, and to cast them into the burning fiery furnace.
Then these men were bound in their coats, their hosen, and their hats, and their other garments, and were cast into the midst of the burning fiery furnace.
Therefore because the king's commandment was urgent, and the furnace exceeding hot, the flame of the fire slew those men that took up Shadrach, Meshach, and Abednego.
And these three men, Shadrach, Meshach, and Abednego, fell down bound into the midst of the burning fiery furnace.
Then Nebuchadnezzar the king was astonied, and rose up in haste, and spake, and said unto his counsellors, Did not we cast three men bound into the midst of the fire? They answered and said unto the king, True, O king.
He answered and said, Lo, I see four men loose, walking in the midst of the fire, and they have no hurt; and the form of the fourth is like the Son of God.
Then Nebuchadnezzar came near to the mouth of the burning fiery furnace, and spake, and said, Shadrach, Meshach, and Abednego, ye servants of the most high God, come forth, and come hither. Then Shadrach, Meshach, and Abednego, came forth of the midst of the fire.
And the princes, governors, and captains, and the king's counsellors, being gathered together, saw these men, upon whose bodies the fire had no power, nor was an hair of their head singed, neither were their coats changed, nor the smell of fire had passed on them.
Then Nebuchadnezzar spake, and said, Blessed be the God of Shadrach, Meshach, and Abednego, who hath sent his angel, and delivered his servants that trusted in him, and have changed the king's word, and yielded their bodies, that they might not serve nor worship any god, except their own God.
Therefore I make a decree, That every people, nation, and language, which speak any thing amiss against the God of Shadrach, Meshach, and Abednego, shall be cut in pieces, and their houses shall be made a dunghill: because there is no other God that can deliver after this sort.
Not only were the men in the fire loose, they were unhurt! (They could have been unbound corpses, you know, before being utterly carbonized by the fire.)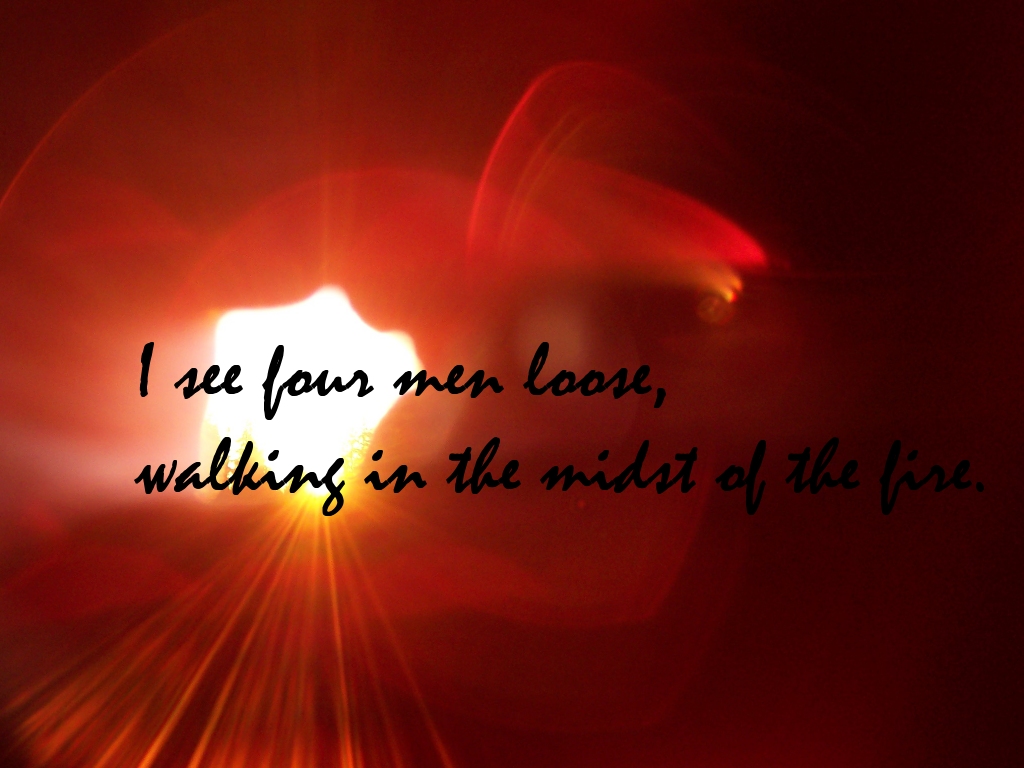 They were walking! Not in a hurrying, scurrying manner — trying to keep their soles from toasting, trying to stir a little breeze to cool them otherwise, trying to find a way out. Nope, they were strolling around amidst the raging flames. Visiting, no doubt, with a fourth Person — a Being whose aspect was beyond human or even angelic, a Being whose glory surely outshone the glare of the tongues of fire. I believe the Lord Jesus Himself — the mighty Jehovah — strolled with them in the heat of the furnace as He had strolled with Adam and Eve in the cool of the garden.
Had He come to encourage and sustain them in their martyrdom? Or had He come to deliver them? It could have been either; this time, He chose to do the latter for His faithful followers.
By the way, I wonder what their conversation was about, there in the raging, roaring furnace. What did He have to say to them? I imagine He commended them for being faithful. (I could tell you more of my imaginings, but I need to get this finished.)
Well, I'm also impressed this morning by these words in Nebuchadnezzar's testimony after he verified that these men had experienced an abundant deliverance from both his fiery fury and his fiery furnace: "His servants that trusted in him…yielded their bodies" (Daniel 3:28).
I personalize this with another New Testament verse: "I beseech you therefore, brethren, by the mercies of God, that ye present your bodies a living sacrifice, holy, acceptable unto God, which is your reasonable service" (Romans 12:1).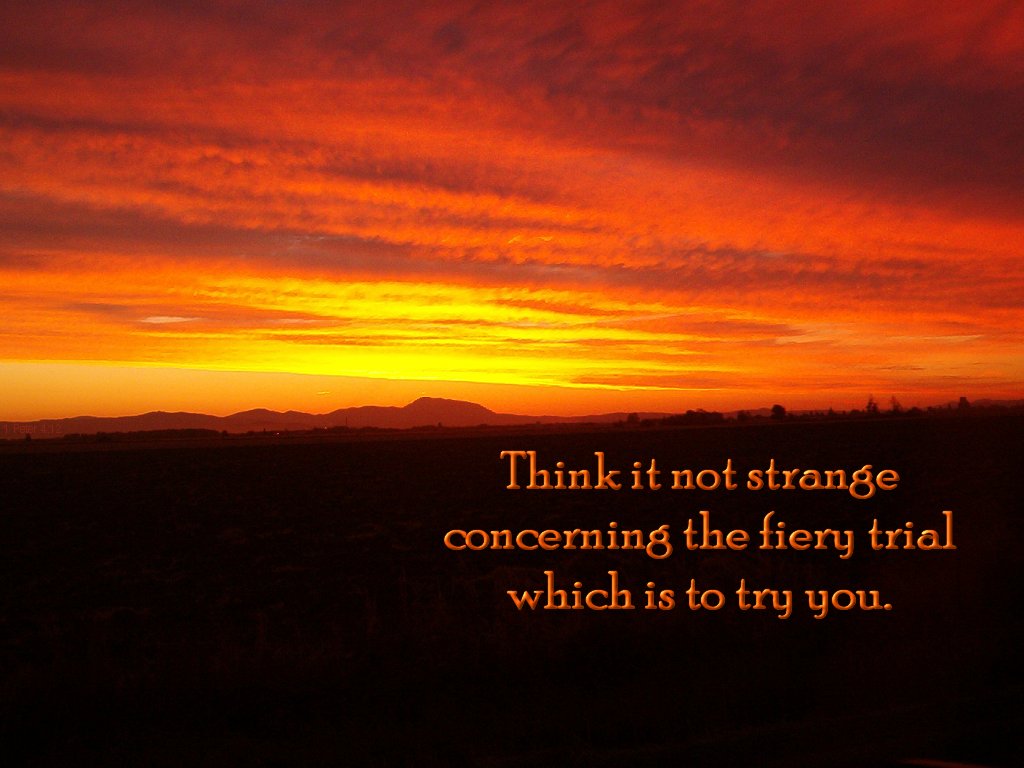 Wherefore seeing we also are compassed about with so great a cloud of witnesses, let us lay aside every weight, and the sin which doth so easily beset us, and let us run with patience the race that is set before us" (Hebrews 12:1).
I purpose again to be faithful and to live faithfully. Today. Even outside of the furnace. Especially outside of the furnace.
Now pray for me, please. I'm very frustrated for having spent so much time at this — time and mental energy I hope I shouldn't have expended on my occupational writing. Why do I do this? I don't know. Maybe I can't help myself. Maybe it's an escape. Maybe it's an effort to "matter." Pardon the post-partum navel-gazing (or whatever it is). Thanks.