Jason, taking a break from his normal work: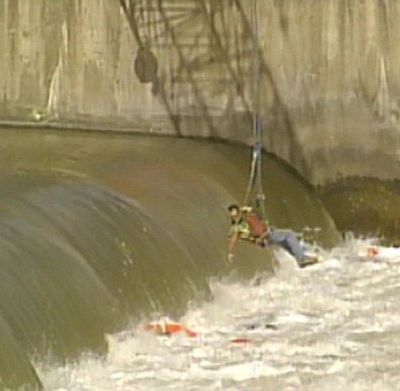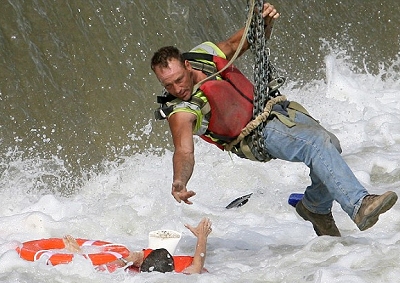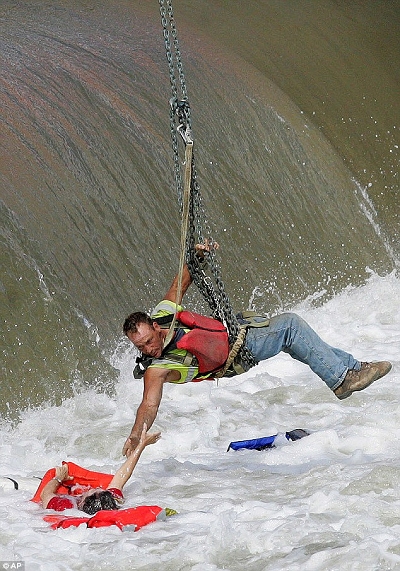 A construction worker dangled from a heavy-duty chain supported by a crane to rescue a woman from the swirling waters of the Des Moines River on Tuesday afternoon.

The dramatic rescue was met with cheers from spectators who had gathered on the banks of the river and nearby bridges after the boat the woman was in went over the Center Street dam.

[…]

Capt. Steve Brown, a spokesman for the Des Moines Fire Department, said rescuing someone trapped in the turbulent boil is "very rare."

"We are trained for getting people out of those situations," Brown said. "The construction workers definitely went well above and beyond."

"She was getting beat up by the water pretty good – they didn't think she had much longer to last."

Brown said a rescue team from the fire department made multiple attempts to get close, but was unable to do so.

[…]

When asked if he volunteered to be rigged to the crane, Oglesbee said he just happened to be wearing the harness. Joe Lowe operated the crane that suspended Oglesbee above the water.

"I just told her to hang on tight. I won't let go," Oglesbee recalled.