Scroll to the end for this update: Sunday morning, May 14.
First, the obituary for Rosana Roth as found in the funeral bulletin…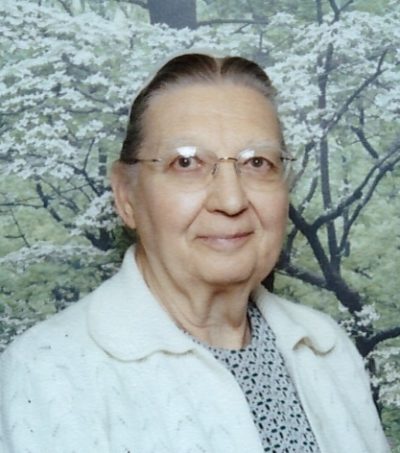 "The unmarried woman careth for the things of the Lord" (1 Corinthians 7:34).
Rosana Mae Roth was born on November 11, 1931, in Upland, California. She was the second of the seven children of Jacob and Mary (Buckwalter) Roth. She and her older sister Lois graduated from high school in 1950 with the rest of Western Mennonite School's first graduating class.
Never married, Rosana cared for the things of the Lord. She was a school teacher in the States for a total of eleven years in three communities: Deep Creek, Virginia; Elida, Ohio; and Harrisburg, Oregon. She went on to serve about three decades as a missionary and teacher in Mexico and Puerto Rico.
Rosana's work in Mexico began in the summer of 1959 when she went to Mexico City under the Franconia Mennonite Conference Board of Missions and Charities. She moved back to Oregon in August 1977.
Eventually Rosana returned to a different area of Mexico where she spent years helping operate a feeding and Bible teaching program for World Vision and Compassion International. She went on to serve under the Missions Committee of Bible Mennonite Fellowship in the state of Zacatecas. Later she served two years under the Puerto Rico Mennonite Council as a school teacher for missionary children in Puerto Rico.
Her Oregon hometown of Woodburn gave Rosana many opportunities for service — Spanish classes, English classes, Bible studies, visitation, Dial-a-Ride, Food Bank, Meals on Wheels, elder care, and taking elderly people places. She was given recognition more than once for her decades of volunteer work in the community. One of her shoe-leather life mottoes seemed to be, "Someone might need this!" She didn't quite get rid of everything she bought (or got for free) for others who might need it. She loved to help other people.
Rosana knew her Bible well, having read through it often. With her death and James Smucker's death, Hopewell Mennonite Church lost its two "star" human concordances. Many times in the course of the years, a minister or other public speaker would think of a verse fragment and not be able to cite it fully or pinpoint the reference — and James or Aunt Rosie would bail him out more often than not. It was a fascinating thing to witness.
Rosana died gently in her sleep just before 9:00 pm on May 5, 2017 — a day short of 14 weeks after the death of her brother James. Rosana was also preceded in death by her parents, Jacob and Mary, as well as three other siblings: Lois (Shetler), David, and Susan (Heatwole). Her surviving siblings are Ruth (Georgiades) and Sam.
(Click to view or download the pdf of the Rosana Roth funeral bulletin.)
Added Sunday morning, May 14
The obituary I prepared for Tim Teele to read at the funeral had these additions to what you read above…
After a subsequent visit to Mexico, she wrote a form letter dated July 31, 1978. Here are two excerpts from that letter:
It was a real thrill to see their faces and know some were hearing for the first time the stories we've heard so often. It isn't fair, is it? Some "eat" over and over, and others are hungry but are never served the Bread of Life. Who will go? Pray for workers.

My 10 months in the affluent U.S.A. were full of adjustments. It seems we have so many unnecessary things and do so many unnecessary things. Do we care that the world is perishing? Do we act like it? Where is the simple living, simple eating, simple meetinghouses, etc., etc.?
Rosana was a prolific note-taker and proofreader. She also enjoyed reading, playing Scrabble, visiting, and listening to recorded teaching and preaching. She was very frugal and thrifty, disinclined toward waste or extravagance (but she did happily indulge ice cream and chocolate). And you didn't need to know her long to discover she was also quite unconventional. She was a faithful Christian woman of clear convictions which she held to without flinching or apologizing. And not until her illness caused her to sleep her way to death did she really cease to be a direct teacher and missionary.
Aunt Rosie ran her race here.
And finished her course.
And was eased into eternal life
By the Eternal One
Who is the way, the truth, and the life.
She would want you to know—
Him.
Sunday afternoon update…pending