I go through all-too-infrequent times of intense, desperate prayer. My mind seems in that almost-perpetual state of calling out to God.
Such praying and such awareness of the spiritual battle is of such intensity as to be impossible to maintain for long. At least, that is what my experience has been.
I thought briefly along those lines this morning, before starting to read in Luke 18.
"And he spake a parable unto them to this end, that men ought always to pray, and not to faint" (1).
That's for me! God spoke to my need! (Should I be so amazed?)
I do my reading in my "hardware" Bible. Let me call up my computer Bible to see what cross references might come up to that part of the verse . . . .
"Watch ye therefore, and pray always, that ye may be accounted worthy to escape all these things that shall come to pass, and to stand before the Son of man" (Luke 21:36).
"Praying always with all prayer and supplication in the Spirit, and watching thereunto with all perseverance and supplication for all saints" (Ephesians 6:18).
"Continue in prayer, and watch in the same with thanksgiving" (Colossians 4:2).
"Pray without ceasing" (1 Thessalonians 5:17).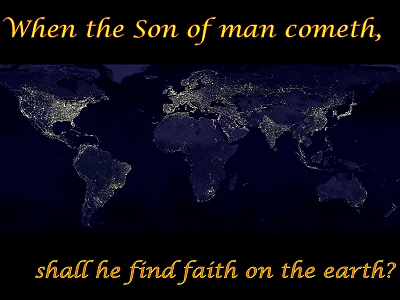 from Luke 18:8
A little bit more from Luke 18: Me. A. Sinner.