Private
So you have an ebook ready for market — or well on its way to being ready, like I do — but you need a cover.
What software or service should you I use to design that cover? (I updated this post at the end on October 18, 2012.)
I did some minimal research and came across an outfit called MyeCoverMaker. With a name like that, what's there not to like? (Some free options closed the deal for me.)
Now, the disclaimer: As you'll see soon, this doesn't do a cover that I can use as "Page 1" of my ebook. I guess I'll just use PaintShopPro to do that, unless you have some good suggestions to offer in the comments below. (I'd be very pleased if you did!)
Now, back to my adventure.
In the interest of getting a quick feel for what I could do, I picked a stock background that fits the title of my book. For the font family, I think I just left the default.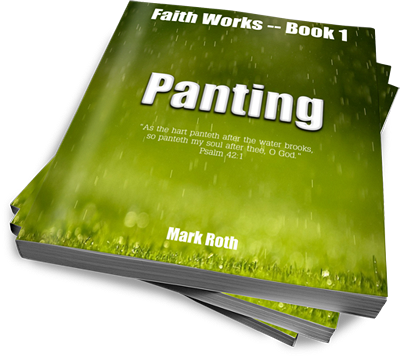 It's all very easy. And I was in a hurry, with little care for trying to produce a final-and-ready-to-use result.
So I got the image you see at the right. (You do see an image there, right?)
In that particular experience, I wished only for four things:
a plain, straight-on "cover" that I could use for the actual book
the option to use my own custom background image
a precise way to enter the font size (eg, in pixels) instead of dragging the corner
centering for the block of text after resizing
But, hey, it's free, so why should I gripe?! 😯
Thank you very much, MyeCoverMaker!
HT: Stacy (thank you for pointing me to MyeCoverMaker!)
PS: The cover mock-up you see above shows you the title of my first book as well as the layout and content I have in mind for the text on the cover.
Series title — current book number in series
Single-word book title
King James Bible verse from whence cometh the title
Author
Update: October 18, 2012 — I ended up making my first ebook cover using PaintShop Pro
and a digital photo I took. If you want to go the make-your-own route, these books might be helpful: