I'm teaching the men's Sunday School class in our congregation this month. So Wednesday morning I decided to read over the Scripture text for next Sunday's lesson. Here you have a selection of hasty, preliminary notes I jotted down for myself on the first ten verses. I'm sure I'll develop some further for possible use in my class. In fact, I already added a line or two here and there.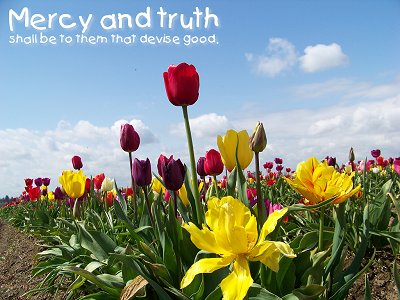 from Proverbs 3:3
Oh, one other thing. The Spanish stuff comes from the Reina-Valera 1960 version of the Bible. Beneath each such usage you will find my translation to English.
"My son, forget not my law; but let thine heart keep my commandments" (Proverbs 3:1).
forget or keep — my choice
"For length of days, and long life, and peace, shall they add to thee" (Proverbs 3:2).
We tend to ask how-can-it-be or what-does-it-mean questions about the lifespan stuff, but not about the peace.
"Let not mercy and truth forsake thee: bind them about thy neck; write them upon the table of thine heart" (Proverbs 3:3).
Mercy and truth go together, so keep them together — around your neck and within your heart.

Don't ever let them get away from you.
Mercy and truth stabilize and guide the heart.
They also beautify the character.
When you fasten something around your neck, it may be as a necklace or as a collar.
"So shalt thou find favour and good understanding in the sight of God and man" (Proverbs 3:4).
This is how you please God.
Not all men, of course.
favour = H2580 = "graciousness"
"Trust in the LORD with all thine heart; and lean not unto thine own understanding" (Proverbs 3:5).
The heart — where obedience (v1), mercy and truth (v3), and trust (v5) belong.
Trust God fully.
Lean on His perspective and understanding, not your own.
"In all thy ways acknowledge him, and he shall direct thy paths" (Proverbs 3:6).
"Reconócelo en todos tus caminos, Y él enderezará tus veredas."

"Recognize Him and give Him recognition in all your ways, and He will straighten out your paths."

Wherever you are and whatever you are doing, recognize Him.
Then He can guide you.
Is there a difference between directing my path and directing me?
"Be not wise in thine own eyes: fear the LORD, and depart from evil" (Proverbs 3:7).
Not your own understanding; not your own wisdom.
Don't have an exalted view of yourself and your wisdom.

Keep your view of God right.
Keep your relationship with God right.
Choose to avoid evil and abandon evil.

Remember: friendship with the world is enmity with God (James 4:4).
"It shall be health to thy navel, and marrow to thy bones" (Proverbs 3:8).
This sounds like verse 2.
"Porque será medicina a tu cuerpo, Y refrigerio para tus huesos."

"Because it shall be medicine to your body, and refreshment for your bones."
"Honour the LORD with thy substance, and with the firstfruits of all thine increase" (Proverbs 3:9).
"Honra a Jehová con tus bienes, Y con las primicias de todos tus frutos"

"Honor Jehovah with your goods, and with the first fruits of all your fruits."

Somehow, honor God with that which is essential in your life and for your life — the substance.

Also with the first and best and most needful of your gains.

substance = H1952 = "wealth"
"So shall thy barns be filled with plenty, and thy presses shall burst out with new wine" (Proverbs 3:10).
Where is my abundance and plenty? In fact, where are my barns even?

Do my questions reveal a failure on my part to meet the apparent conditions stated in verse 9?
Or can we chalk off this verse as just another example in this passage of God "overstating" His promises? (You know, as in verses 2, 4, and 8?)
Way back when (May 23, 2008) I posted this from Proverbs 3: In All My Ways.
More recently (well, relatively so: March 3, 2010) I posted something else from this chapter: Is It Still True?