Reading:
Proverbs 30:11-23

Today's reading begins with four verses that speak of a certain generation. Or is it four different generations? I don't know. Maybe it doesn't matter.
What does matter is the truth conveyed in these verses.
Here is one of them:
"There is a generation that are pure in their own eyes, and yet is not washed from their filthiness" (12).
That's my generation.
So to verse 12 I say: "Create in me a clean heart, O God; and renew a right spirit within me" (Psalm 51:10).
Yes, in me.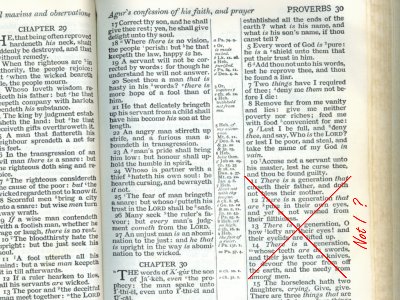 from Proverbs 30:12